In the above link you'll find my very first post about cloth diaper inserts. In general it revolved around gDiapers however they can be used for any diapers as long you make them to fit. This tutorial is specifically for microfiber inserts. It's very simple so don't worry :)
What you will need:
~Dimensions of the inserts for your diaper
In my case, I have mostly Alva brand. Check with your favorite brands for insert dimensions before you get started.
Alva (regular) - 12.99" x 5.32"
Alva (newborn) - 12.60" x 4.33"
~Microfiber towels
The ones I used for the newborn inserts are 14x14 (pictured in white or blue)
For the regular size inserts I used towels measuring 14x17 (pictured in yellow)


~Sewing machine or serger
There truly is no cutting involved in my case here unless you're looking for exact dimensions and rounded corners. All you need to do is tri-fold your microfiber towels evenly, pin (which I really didn't do) and zig-zag stitch all the way around.
You can see my yellow towels were already creased for me. I folded in thirds along the longest part that way the inserts are 14 inches long and about 5.5 inches wide.
The newborn inserts end up being 14 inches long and about 4.5 inches wide.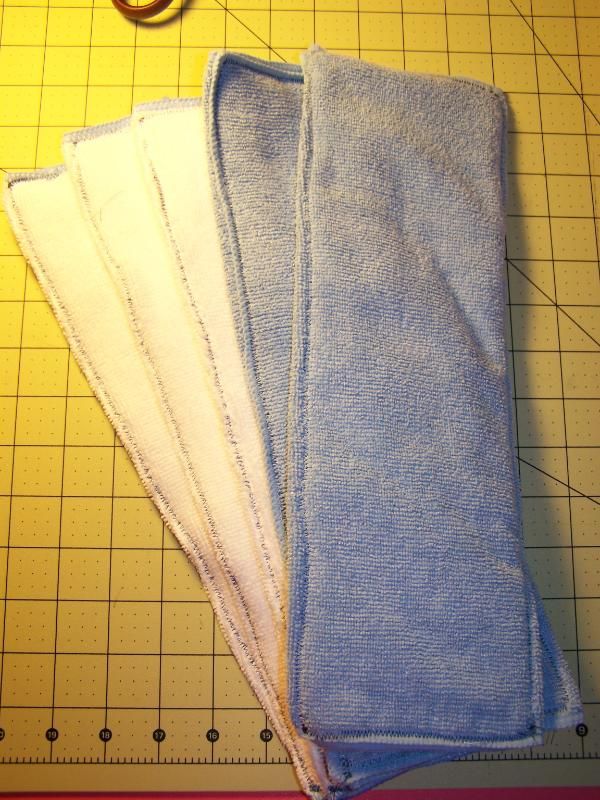 Here is an Alva newborn microfiber insert next to my "newborn" microfiber insert. Slightly longer but that's ok. They are the same thickness and it should work just as well.
If you have colorful microfiber towels like I do, be mindful that they may shine their colors through your white or lighter colored diapers. I still need to make many many more regular size inserts but it will be a while til our son fits those so I'm not yet worried about hunting down white towels.
To prep: Wash once in hot water with detergent
(I'm using All Free & Clear as my CD safe detergent for now)
. Dry on low heat. NO FABRIC SOFTENERS!
So there you have it! You now have easy microfiber inserts for your pocket diapers.
Microfiber is not recommended for use against baby's skin. It's not a very pleasant feeling material and many people say it causes rashes and other issues with their babies. If you have diapers where the inserts are not put in a pocket but instead lay against baby's skin, refer to my Part I post about adding fleece or flannel as outer layers.
~Lisa~