....
.....
......
.......
........
.........
..........
...........
............
Our little guy giving us a smile!!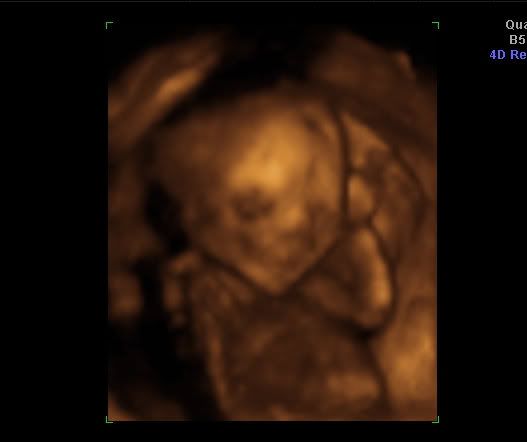 April 20th, at 18 weeks and 2 days, my husband and I decided to celebrate our birthdays a little early and went for an elective 3D ultrasound. We never had the opportunity to do anything like that with our daughter and we were itching to find out the gender and do something a little special. What an awesome experience!
I strongly recommend you go for one if you can and never have before. Maybe not necessarily as early as we went because they did look a little alien-like at 18 weeks, but maybe around 30 weeks. It was amazing to look at photos of 3rd trimester ultrasounds and then see a photo of the baby after they were born and see how much exactly alike they are. Our hope is to go back later in the pregnancy.
Mr. Maddox was definitely asleep when the ultrasound started. I work 2nd shift so 4pm is nearing the end of his night time. I always notice he is awake later in the evening. After some jumping up and down and bouncing the ultrasound wand-thingy on my belly we finally got him to move just enough to see between his legs, and voila :) I admit, I anticipated a girl and I knew deeeeeep down that the Good Lord was going to toss me this sort of curve ball lol. It's exciting though because it's a whole other experience from what we are used to and I'm so up for the challenge!
It has been fun finally being in a position to where I can get the decor going in the bedroom that Jaiden and Maddox will be sharing. I will definitely be keeping you all posted on the many projects going on in there!