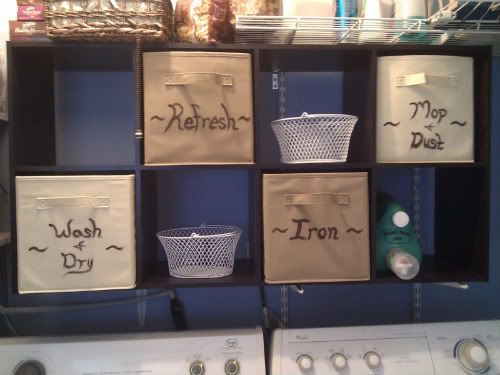 I looked almost everywhere for a blog, website, tutorial, anything that would prove I could put my cube organizer on the wall... No luck.
Obviously I didn't let it stop me, muwahaha!
I really needed to find a new home for it. Recently I got a bedroom set that once belonged to my Mamaw. The armoire wouldn't fit in Jaiden's room with the rest of the pieces so I decided to put it in the extra room. That meant the shelf had to go.
It sat for a couple of days until I decided I would go ahead and completely reorganize my laundry closet and find a way to get that sucker on the wall!

Yeaaahh, that's my nasty laundry closet. Of course at this point it has been emptied out. Before this it was a disorganized mess so believe it or not I did spare you some pain.
It took me about a day and a half total to finish it up. I had to putty old holes, clean up all the dust and lint, and paint.

(Thank you to my friend Judy for selling me an entire unopened can of great quality paint for cheap!)

Then I had to hang up the cube shelf.
That was hilarious and I never want to do it on my own ever again.
I'm not 100% confident in the bracing of this shelf. I think my stud finder is out to kill me. Had much better luck knocking on the wall looking for studs after I had already screwed a gazillion holes everywhere. Argh! So only a few of the brackets are actually in studs.
The rest of the weight is supported by a lot of prayers and the arms of the wall shelf that was already there!
A little tugging on it did seem to prove fairly safe :\
This is to the left of the dryer. There are two shelves. The top shelf reusable bags, my Hefty & Ziploc bag collection, as well as some bread for now. The bottom shelfs holds all of my paint cans.
After I got everything in there I realized it needed to be covered. It just looked so cluttered. There is a water softener system and water heater back there.
(I used hooks screwed in to the top shelf and a leftover piece of quarter round, of all things, to fit across as a make-shift curtain rod.
)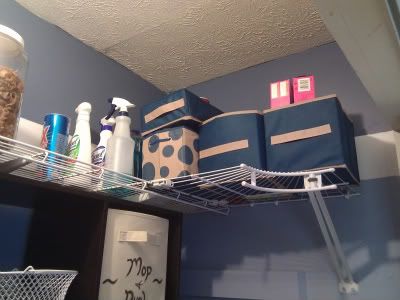 Just some Dollar Tree fabric cubes I used to organize little things.
Now instead of having junk piled on top of the washer and dryer making it more difficult and annoying to do laundry, I have everything organized with a home and it only cost me about $30 for the paint, Dollar Tree cubes, and wall brackets!!
Be Inspired!
#2 Most viewed post of 2011
2011 In Review - 2012 So Much To Do!
Linked: