I just realized I never came back and posted the finished results of our kitchen makeover!
I won't go in to much detail about what I did since I spotlighted most of the plans in the Home Improvement post, so here are finished photos for you to enjoy! Hubby and I did almost everything on our own except cutting and installing the counter tops, and the rewiring of the dishwasher.
What you see when you enter the kitchen:
Sink area... new dishwasher and freshly painted cabinets with new hardware!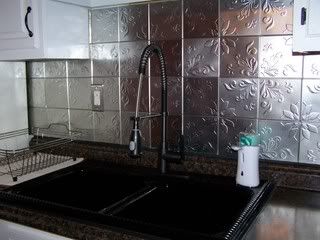 Inside wall that the table is on. That is the pot rack I made from a shelf that my Papaw made years ago. Just added hooks!
Back door area. New mini pantry thing we bought to replace the big ugly plastic shelf:
I don't have a photo of it, but we were able to get the dishwasher actually wired to the house instead of having to move a plug around! How exciting! No more ugly plug above the counter, and we don't have to worry about one below it either.
My favorite parts are the new dishwasher, deep sink, brighter lighting fixture

(It was impossible to see anything with the old tiny bedroom-style fan and light)

, my pot rack, and the extra little chunk of cabinet and counter space to the right of the stove. It was one crazy week to get this kitchen done, and we were flat

wore out

, but it was SO worth the final product!
Bryan said the worst part was the plumbing. We had a terrible time getting the pipes to fit one badly threaded sink drain but thankfully he was able to get it to work without having to return and wait for a new drain.

Oil-rubbed bronze drains are very hard to find!
I love that man of mine! I couldn't ask for more than what the Lord has already given us in our beautiful new kitchen!