THIS excites me!!!
I have been itching to redo of a piece of furniture (paint-wise) for a while.
Last year I got a desk from my mom.
Well, really it was from my aunt and uncle but my mom came by the house with a big desk in the back of her truck.
I told her she surely did not need any more furniture in her little house so convinced her to let me have it. Since then it has served a convenient purpose in my extra room, especially when I got my sewing machine in December.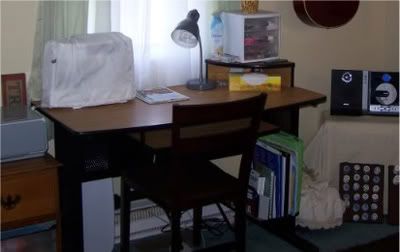 In September of last year I also decided to go buy a vanity

(or anything I could find that would work)

to use as a vanity table. I have Plantar Fasciitis so standing in the bathroom for an extended period of time to do my hair/make-up was very hard on my feet. I found the perfect little desk with all kinds of beautiful potential... I think I paid $25-$30 for it.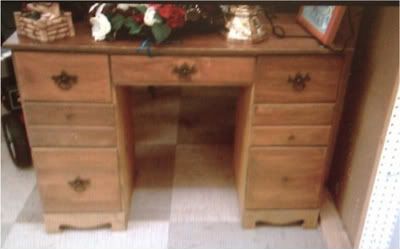 I'm slowly in the process of trying to put our house together and I really wanted to get my sewing room set up the way I want it. That involved moving my vanity from my bedroom to the sewing room. After standing back and looking, everything was so mismatched and it drove me crazy!! Sooo... a little hunting around online and I decided to repaint the desk and vanity to match so I could get the ball rolling on the decor process.
After a little color debate I settled for pink and white
...and this is what I got...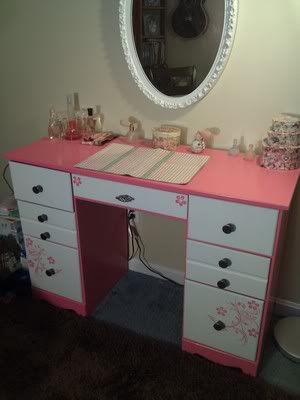 I decorated it with perfumes and pretties my mom gave me that she inherited from my recently passed Mamaw. I think they made a beautiful addition.
Forgot ab
out the white mirror I had tucked away..

PERFECT

fit!
I was using a big square brown-framed one from K

irkland's. Got this white mirror off Craigslist last year originally for my bathroom whenever we redid it. Still have not redone it...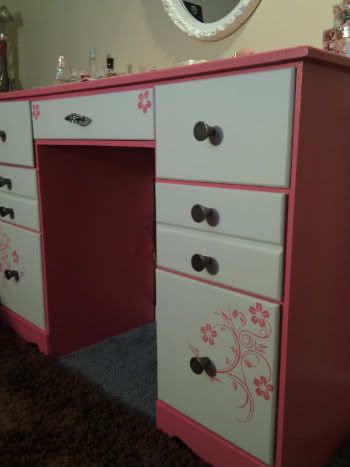 I

LOVE

the new knobs I bought for it! They are like a pewter color... $5 for all of those

brand new

!!
(at a local store that sells stuff they buy by the truck loads from department stores and such.)
In the finished product I got rid of the shelf that was in the top right corner, and the shelf on the bottom right, as well as a roll-out keyboard tray that was attached under the desk.
I'm definitely thrilled at the results!!
I won't get in to too many details about how I did everything. It's pretty simple. Sanding and painting.
A couple notes:
I do not recommend spray paint for this. I used it at first and had to go out and buy a paint+primer in one paint to finish the project. I only used the spray paint ultimately for the metal legs on the desk as well as the black rubber-like strip that went around the outer edge of the desk. It was the only way I knew to make it white. Give that stuff plenty of time to dry! It took nearly 2 days for it to not be tacky to the touch any longer. Rubber is not easy to paint apparently!
In total, this project cost maybe

$30

for the stencil, paint, and hardware.