I had quit the time trying to come up with a budget-friendly and meaningful anniversary gift for my hubs. He was planning me some elaborate (to me at least) weekend getaway and I had absolutely nothing planned for him! He said "make me something." So after some hunting around I found a few ideas. I couldn't really bring myself to do the ones I found... they just didn't sound right for us so back to the drawing board and my trusty blog website, www.childmade.com.
Here is what I found and who I credit the idea to...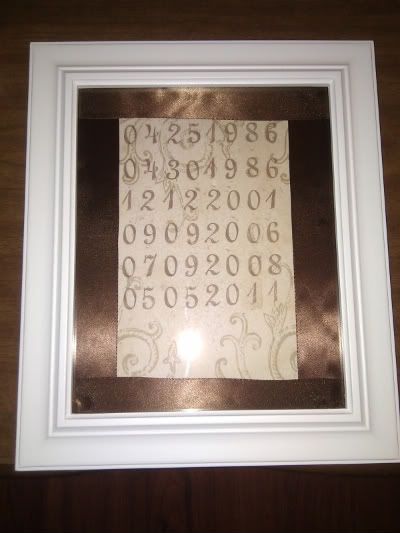 It encompassed everything that makes us who we are in a simple, elegant way that we can hang on our wall and share with others... PERFECT!
What you see is my birthday, my husband's birthday, the day we started dating

(a looong time ago in 10th grade!)

, our wedding date, the birth date of our beautiful Jaiden, and the date we found out we were pregnant with our 2nd baby that we miscarried. I also was sure to leave a little extra space for any future pregnancies/births.
For the original blogger, the project was free. For me, it wasn't but that's because I just didn't have anything handy to make it, so it cost me about $24.
Brown ribbon I actually already had
I cut the paper down to fit the 8x10 frame. then laid out my stamps to see how to space them because of course once you start stamping you can't go back... and I didn't buy an extra sheet of paper. I made sure to write down all of the dates I wished to use so I would put them in the right order and not accidentally skip one. I did make a few booboos. I even stamped the wrong number on my last date but I just cut out a piece of scrap scrapbook paper and taped it down with the right number. From there I added the ribbon border with a little bit of hot glue. The ribbon is a little crooked but I just need to open the frame back up and adjust it.
I accompanied it with a note

(that I bawled my eyes out writing)

and gave it to my hubby on our anniversary night. Real men shed a few tears ;)