This year Bryan and I are going to tackle the task of redoing our kitchen! In general, the kitchen is not in bad shape, but it has some outdated things that really need some updating.
Here are some of the changes we will do:
- New sink, faucet and drains/strainers
- Fresh paint on cabinets
- New hardware on cabinets
- Trim around underside of cabinets and hide gaps around appliances
- New lighting fixture and add undercabinet lighting.
There are several other little things we will be tweaking and updating along the way but that is the basic jist of it all. I took some photos of the kitchen in its current state. It's not cleared out because we don't plan to start the process for another 2 or 3 weeks, but I wanted to go ahead and begin documenting it as-is to help compare it to the final product!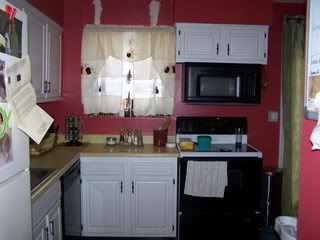 This is what you see when you first walk in to the kitchen from the hallway. The new counter will be extended by about 2 1/2 or so inches next to the stove in order to make the stove centered under the microwave/cabinet area. You can see in the picture it is too far to the left. In that gap which will be around 3 inches we are going to make a she;f area to slip cookie sheets/cutting boards in to.
Sink/back splash area. Wall paper backing has to be removed and then we will adhere tin tiles.
Back doors and pantry. The pantry will be gone when the kitchen is done to open up the room more.We will put a small storage chest there (already ordered, can't wait to get it!!) and probably move that big unit to the outside closet so I can still store canned goods and 'overstock' items. Ordered new curtains for the french doors also.
Laundry closet doors.We will change hardware to match the rest of the kitchen. Hoping we can fix the height issue with the right door also.
Left side of dishwasher meets cabinet. Obviously the built-in dishwasher was nothing they did in 1978 so the previous homeowners very poorly sawed the cabinet out to fit the dishwasher. Once the new dishwasher is put in a small piece of trim will hide that booboo.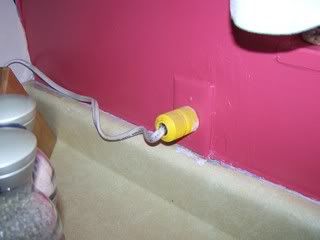 Dishwasher plug. Our hope is to get it rewired to under the counter so it isn't visible.
Base of cabinets. We'll add trim to hide that mess.
Underside of cabinets that hang over the stove. There is a spot like that on both sides of the microwave that will be covered up.
It is currently a slow work in progress and a waiting game until we can go at it and buy all the big stuff to start to remodel. I hope we can have it 100% completed by mid March.