Before I go too far:

This was not originally my idea. I read about it here :)
A few months ago my Mamaw gave me two boxes full of scrap fabric. She had been cleaning out her sewing area and knew that I was getting in to the hobby. It was an absolutely awesome gift for someone like me and I was thrilled to bring it all home.
But I had no clue what to do with it!
It sat in my closet in big clear plastic tubs for a few weeks. I really didn't do anything with it, either. It was such a pain to get to, dig through, and put back. Finding the above link on a forum turned it all around!
Whodathunk you could display your scrap fabric just like they do in the stores, but on a smaller scale?!
In the above link, the blogger used comic book boards. Unfortunately for me the notion struck me to do this project after the Hobby shop in town closed so hubby rushed me around to a few other stores until

I finally got the brilliant idea: foam poster board cut in to rectangles! Dollar Tree, here we come!! I bought 10 boards for a whopping $10. Each board allowed me to cut 9 rectangles.

I used a scrapbooking knife that glided very easily through the board. It's D.T. foam board though so not like you're working with high quality stuff, however... I will not complain. It did what I needed!
After cutting all of the foam board up I did pretty well what the blogger did, folded the fabrics neatly to the height of the board and wrapped it around. You'll see in my pictures that they aren't all the same height.
Yeaaah maybe neatly was an overstatement.
Personally I found it best to pin the ends down in to the foam so it wouldn't slip off the board or become a pain when storing and removing. Ever since I have done this, I have had easier access to all the wonderful scraps my Mamaw game me, plus new fabrics, and have been able to complete more projects.
You can see I did floral prints, linear prints, solids, plaids and so on with my organizing....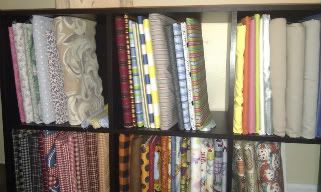 I store my fabrics in one of those cubical shelves. I took the fabric cubes out and put them in the top of my closet to store craft stuff, other scraps and project things. My plan is to eventually get another cubical shelf and stack it on top of this one that way I can bring my cubes back out of the closet and of course have more space to store more fabrics.
Obviously not all of your scraps are big enough to bolt.

What I did with the smaller pieces was fold them up to about 3 of 4 inch pieces then 'file' them in a plastic shoebox container. That way when I open it I can see all my fabrics from the top, and I can even see them from the outside along the sides of the box. With both the shoebox and the bolts I organized them by prints, solids, plaids, etc. to make it look neater and much easier to locate what you want.
This is probably one of the most organized spots in my whole house. The big thing is once you take fabric off the 'bolt' is to

return it to the bolt and store it back.

I am still having a hard time with that lol.
Be Inspired!