I'm not a trip-taking pro but I thought I'd take a stab at helping folks prep for a long trip with a dog. I'm not going by some professional's tips, this is just what I figured out for our first ever road-trip with our 3yr old Labrador Retriever, Neha.

Over Memorial Day weekend we visited my Dad and his girlfriend at their lake house which is about 8 hours from where we live.
We have a Town & Country minivan so for now space is not really an issue with a 3-person family. We stowed away the back seats as well as the unused Captain's seat behind the driver to give us enough space since we'd have an extra "passenger" this time.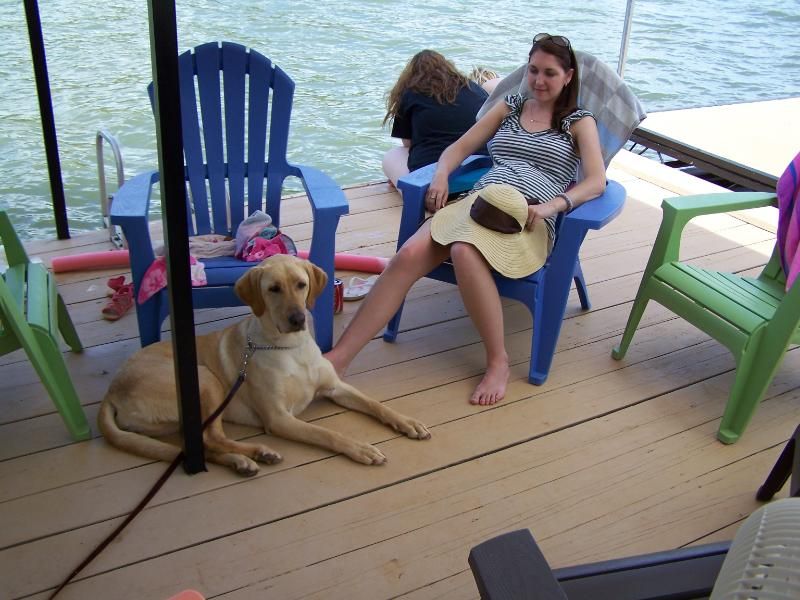 My big baby girl and I on the dock, our last day at the lake.
(She was not leashed most of the time on the lake but this was our last day and I didn't really want a wet dog in the van when we left later)
Here is my list of things + tips you may need for your trip!
- Make a list of extras:
~ Before you leave make a list of everything you know for sure you'll need or would like to have with you for the dog. Start the list about a week or so before you pack that way you can jot things down as you use them or remember them. I grabbed a few extra toys and her shampoo/conditioner since we were going to a lake.
- Potty breaks:
~ P
lease make sure you get your dog to pee & poop before you get on the road!!
We got Neha to pee at the house before hopping in the van (early morning) but she wouldn't poop. She was overly excited about going with us. When we stopped for gas before we got on the interstate I took her out and let her try again and she had a successful BM. That eased my fears about van poop accidents (it's happened to me before and it smells absolutely awful!)
~ Since I am 6 months pregnant potty breaks were not really an issue in terms of remembering to stop. We were stopping every couple hours as it was so maybe every other stop we would let Neha out to try.
- Kennel, crate, or barrier:
~ We have a large wire crate we use for her in the house
(kinda like this)
. Plenty of room for her and she is a very large in height Lab. This was a MUST to take with us. She is not a very mellow car dog especially if she has space to move, plus we don't want her trampling all over. The kennel was placed front-facing behind the driver's seat to where we could open the kennel door and she could easily hop out the passenger sliding door rather than it sit in the back of the van and have to be accessed by the back gate where shifted belongings could fall out upon opening.
~ Depending on your vehicle and situation you can also use one of those metal
car barriers
. A lot of people with cars or SUVs use these to allow your dog to roam free in the back but keep them from coming up front.
- Comfort:
~ Make sure you have a good comfy blanket for furry friends to lay on... they'll be in there for a good duration even with potty breaks so you want them to be comfy.
~ Your dog's favorite chew toy or something they enjoy that will occupy their time may be handy. We gave our dog a rawhide bone which she normally loves to chew on for hours on end but honestly she didn't touch it this trip at all. It was so different for her I think it threw her off, but we were prepared JIC!
- Kennel cover:
~I put a large sheet over her kennel leaving the front exposed so that hair didn't escape everywhere and also to help keep her calm by minimizing distractions that she would otherwise be able to see. Also, if you have a shedder like we do, lay a sheet down underneath the kennel and anywhere your dog may trek when exited the vehicle.
- Jug of water (ab $.89 or so) & a dog bowl:
~ The water jug came in super handy along with our "travel" bowl that's made out of waterproof fabric. We made sure to offer a little water at each stop and if any was left over we just put it in the kennel with her. If anything spilled it just got on the comforter she slept on, no biggy!
- Dog food, of course:
~ Make sure you have enough accessible during the trip if your traveling runs in to a regular feeding time, but also make sure you have plenty for while you're at your destination, unless you'd just rather buy some when you get there. I placed dog food in a couple gallon Hefty bags. You can also now buy 2.5 gallon Hefty bags. Or you can use a small plastic container with a lid... whatever you have handy.
~ We don't do treats, she usually gets leftover fruit, but if you do treats, don't forget those!
- Leash:
~ Unleashed animals are a no-no in my opinion when it comes to public places. You never ever know their temperament especially in a new place and you never know how well they will listen to a return command. We took with us a 15ft long leash with no retraction or anything. It was something I purchased as part of her obedience training. Leashes with length can give you a good opportunity to let them explore a little more than you may be willing to walk when you stop for potty breaks. We also took a regular 6ft leather leash.
- Medication:
~ Obviously you don't want to leave any medication your dog regularly takes behind so be sure to grab that. If your pup has high anxiety in the car check with your vet about something you can give to relax them. We were going to go the Benadryl route (check with your vet on proper dosage!) but opted not to since I had none in the house. I figured if we needed it we'd buy it but we didn't so we saved money!
- Air Freshener:
~ Yes, I'm serious. We could have used it a couple times. Our poor girl had a few nervous stinky farts on the trip down and it meant rolling down windows at 75MPH to air out the van. A little air freshener would have been nice. Not to mention her breath was stinky and she had periods where she would breathe very heavily and we could smell it, Blech!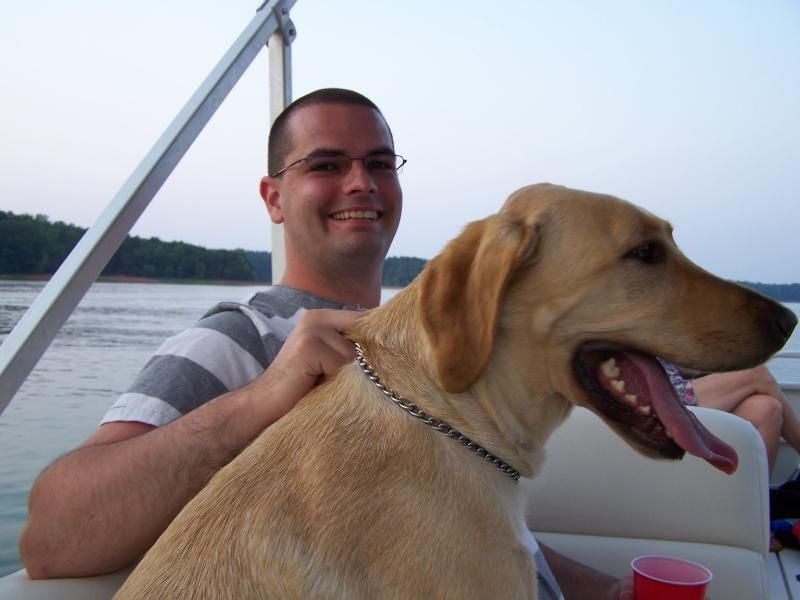 Neha and my husband on Neha's first ever boat ride.
Ultimately my biggest tip is don't spend money you don't have to! If, once you get to your destination, you realize there is something that you just have to have that you didn't have at home to bring with, then get it, but otherwise save the money for your vacation. Your dog surely won't die as long as you at least have food and water for them but some of the above listed things will help make it more comfortable for them (and you) if you are able.
There was nothing I didn't list that I thought "Shoulda brought the whatchamacallit!" so for most people, I think this should suffice and cover pretty much all bases!