(knee-uh)
In 2010 we decided to get a dog for our family. After some hunting I was able to rescue a pure-bred Yellow Labrador Retriever from foster care outside of a shelter. She was 11 months old, overweight, and in desperate need of a place to call her permanent home. She was a perfect match for us.
Neha had a few different medical problems but in general she was a happy and healthy friend. We've dealt with leg and hip issues and last year she developed seizures with an unknown cause. Despite all of that we were confident she'd be here for years to come.
She and Jaiden were the best of friends.
Sadly we were not to have many more years with our beautiful girl. She developed a serious and deadly condition known as "bloat." Although I've heard of stomach turning in dogs I really did not know the symptoms or even think it would happen.
You can read more about bloat or stomach turning in dogs
here
.
Neha lived nearly 24 hours from the onset before we had the chance to take her to our vet. The doctor was very surprised to see she had survived so long. I guess she had a will to hang in there. She had been trying all night to stay as far away from the house as possible but instinctively we continued to check on her and give her love.
We all had the opportunity to say goodbye to our clumsy horse of a dog before we made the decision to have her put to sleep. Jaiden took it pretty hard. As parents it was a devastating experience to watch your little girl go through her first loss. Thankfully she has recovered well since. It took some time and a lot of encouragement. She loves to reminisce about Neha and tell people about her. She even draws pictures of them together.
~~~~~
God gave our family a wonderful companion over the last 3 1/2 years and she will truly be missed....

Neha was the only Lab that couldn't swim. Kiddie pools saved the summers!
A fitting seat for a big puppy.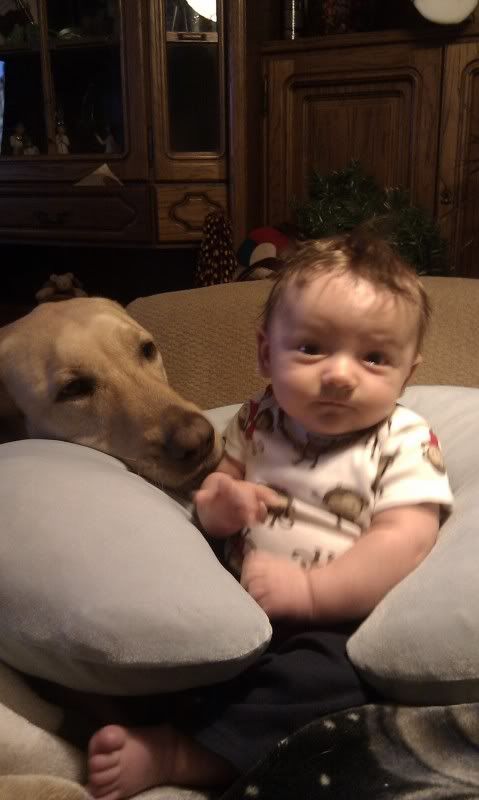 Always together...

~~~~~