(Sorry about photo quality! All I had was my cell phone camera!)

I just linked this post up at my friend's blog for her Warming Up Winter linky party!
I'm not often creative on my own but once in a while I get a little experimental and wow, I actually came up with something awesome! I'm sure it has been done before and for all I know everybody else does it and I'm way behind in the game but just in case you haven't done it here is my idea for fruit-swirled pancakes :)
First, you need a great pancake mix. I don't ever buy store-bought mix anymore. Of course with coupons and sales I could probably get it for super cheap but why when I could make a healthier recipe on my own at home:
4 cups white flour
2 cups whole wheat flour
2/3 cup sugar
2 tablespoons baking powder
1 tablespoon baking soda
This creates a mix that you can store up to 6 months and use when needed. I have done it the above way up until tonight when I made more mix I decided to do 3 cups white flour and 3 cups wheat flour. I don't think it will make a difference but we will see! What I do is label a gallon zip-lock bag and write in permanent marker on the bag the additional ingredients needed to make the mix in to the gooey pancake makin' stuff:
1 cup mix
3/4 cup milk
1 egg
For me, that amount never works. Why is it that the recipe boxes always say they make a gajillion pancakes and they only end up making about 4?! So I just double the recipe for my family and whatever is leftover gets made and then frozen for later :)
So, mix up your pancake mix and pick out your favorite jelly! I experimented with Tastefully Simple brand
Rhubarb Strawberry spread
. It's the absolute best spread ever and now I'm down to my last drop and can't wait for payday so I can order more! Anyway, if you have a couple of measuring cups that would be great. I used a 1/4 cup and 3/4 cup. Scoop out your pancake mix using the 1/4 cup and pour it over in to the bigger measuring cup. Take about 1/2tbsp-1tbsp (depending on your taste) of the spread and drop it in to the pancake mix which is now in the 3/4 cup (or larger than 1/4 cup).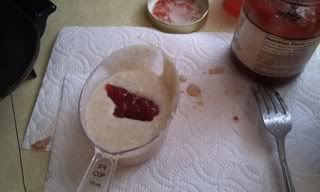 I take the same fork I mixed the pancake batch together with and lightly swirl the spread in to the mix. Don't swirl it in completely or it will mess with the consistency of the mix and won't really cook right. You just want it swirled a bit throughout.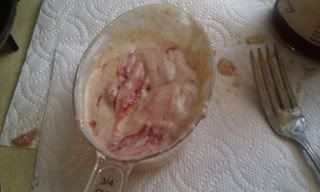 Pour the mix over on to your griddle/pan and cook as usual! It adds an extra step to the process of pancake making but for me, it's totally worth it. It really makes a great taste and my hubby and toddler absolutely love it so it's a keeper for us!!