I'm doing my first hair post!! I'm kind of shy when it comes to trying things new but as my hair has grown out I'm trying to get a little more creative. Last time I had long hair was around 3 1/2 years ago. Thanks to postpartum hair loss that hit me hard when Jaiden was 3 months old I decided to get it lopped off and my hair has been relatively short since... Until now!! Weeee!
One of the styles I'm trying is the 1940's "Suicide Roll." I have seen people label it as faux bangs but the overwhelming majority of people call it the "Suicide Roll." Interesting... but please know it's just the name of the hair do :p
I'm going to put this hair MUST-HAVE secret out there because I think more people neeeeed to know...
Yep, YouTube!! That is the best possible place on the planet to get endless hair style ideas from!
Here is the original video I found to get me going:
With the above tutorial I got this result: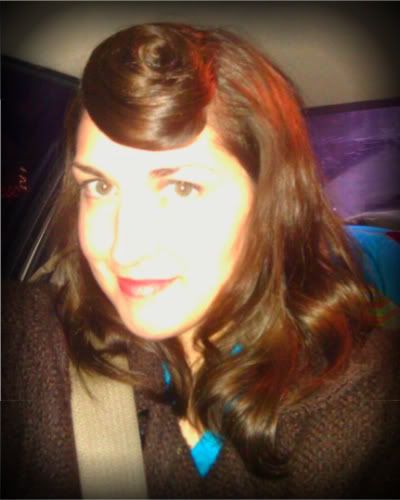 I started looking up other videos to see how people change around the style. There are so many ways you can make this work! I admit, it is not the easiest style to do. It takes some tweaking around and getting used to and it will work differently for everybody depending on how thick or long your hair is. I say that because my friends hair is much longer and thicker and she had to 'work it' in a way I didn't have to.
Today I went for another look with the same concept: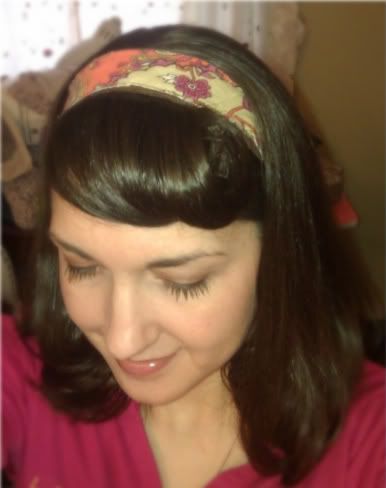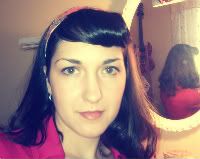 The roll is wider, and with a cute DIY headband (top and bottom photo) it is super cute! The middle photo is the best one I could get of my hair pulled back. I was pressed for time (yes, I'm in the car BUT I was at a stop light!) on my way to work and wanted to snap a pic. I put the pony tail up (at home, not in the car...) as high as I could without being on the top of my head. With curls it gives the pony tail adorable volume.
I've broken out of my shell and tried something new! Your turn!!