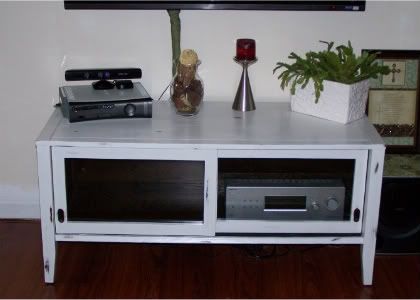 While keeping in mind the theme of the coffee table redo, I went forth and shared the same love with my TV stand! When we first bought our house a few years ago we needed a new place to put our long gone big ol' flat screen tube TV. Target had the one I wanted... here is the before photo minus the doors.
It's hard to tell in this photo but that poor stand has taken a beating by following our daughter from 10 months to 3 1/2 years old. Amazingly she never smashed the glass doors out which was quite the fear of mine provided her immense level of activity!
A quick rundown of what I did: Started out sanding it down

(by hand... I really need an electric sander)

but I decided 1.) because I hate sanding, and 2.) because I wanted to have the original finish shine through at the end that I would not sand it down completely, just enough to allow the paint to adhere to the surface.
After about 3 coats of white paint I had fun roughing it up by sanding it down here and there to give it some character. Then came the Polycrylic. Oooh I really love that stuff! I only did 1 coat of it which they recommend 2 or 3. I didn't want it to look completely sealed up and also since this surface won't get a ton of use like the coffee table I figured one would be ok. And any extra nicks and booboos surely would not hurt a surface that already looks booboo'd.
With some quick wire hiding and organizing it now looks beautiful and doesn't sink in to the dark floors anymore!