You might notice with this post that I make a lot of skirts. First of all, they are super easy to do and extremely cheap if you have an extra pair or two of pants laying around! Secondly, I just don't wear pants very often. It's a personal choice of mine, and while some people feel very strongly about the topic on either side, I don't really care if a woman wears pants or skirts exclusively.
There is a level of modesty I feel when wearing them, It seems to 'force' me to dress up a little more which makes me feel better about myself, and I find it hard to put on pants now because they kinda hug up in places and make me much more uncomfortable throughout the day than a skirt does. Most of the pants I turned in to skirts originally gave me that problem. I'm all about comfort these days!
I have two separate pages, Part I and Part II, for this post. I didn't want to make one post too terribly long so I thought splitting it up would be best. Enjoy!!
~

The very first skirt I made was for Jaiden. My MIL had bought her a couple pairs of jeans that were way too long for her. One of them she fit perfectly in the waist with the elastic unstretched and still a bit a wiggle room so I took both pairs and whipped this up within a week of getting my sewing machine.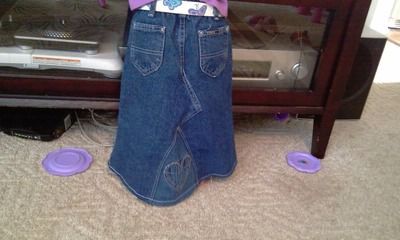 ~ Here I used two pairs of stretch khaki pants I had recently bought at Goodwill. They so happened to be the exact same pair in the same size in a good name brand... how awesome! I wore them a lot early on but they fit me a little tight. I decided to make them in to floor-length skirt then just give it away but once it was cut up without the rise (crotch) it fit me better so I kept it.
The hem job on this was a disaster and very recently I had to cut the entire bottom hem off and re do it . It's maybe 3inches shorter but looks much cleaner.
~

For the twirly skirt I followed some very detailed instructions from HouseOnHillRoad. It was so so cute and looks professional!
It is made with the same exact fabric I used on the
car seat recover
... I took this pic with my cell phone so the colors are not very true. The car seat pics give you a better idea.
~

This next one was a peasant skirt I made for Jaiden. The hardest part about it were the measurements. The site I used had a formula to use based on size of the wearer so that I could cut all the pieces properly. It turned out so much better than I thought! I didn't think basting and gathering stitches would be easy but it was not bad at all.
~ I made myself a panel skirt, which is not an easy beginner project really. It looks good from the outside but it was a mess to make. I wasn't going near zippers or buttons so I opted for a thick elastic waistband covered with a khaki stretch material. What a pain!!! I was going for something that I could grow in to, like if I gained a little weight or got pregnant. It fits that purpose well, but the waistband should not be seen by outsiders... awful job lol. And the same stretch material I used to cover the waistband creates a 2nd layer 'lining' inside the skirt. It's a 5 panel skirt made with a cotton poplin material that reminds me of linen in the sense that it wrinkles so so easily and is awful to iron out. Despite all the heartaches that came with it, I do still love it :)