What a neat way to get constructive feedback about your blog... by posting to a Link Party?! I'm no party host but I wanted to share the blog I have just linked up with and also extend to those of you who DO host parties about this neato idea.
Blogs are almost always a work in progress. User feedback is important and we don't often get it here in blog world. I get it from my husband which helps a lot but that's about it. One set of eyes is not always enough!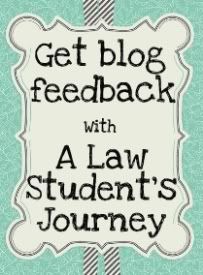 Check out Kitty's post at the above link for details on HOW it works to join or even to host your own Blog Feedback party and you can even join hers if you wish, as long as the party is still open of course. She does ask that you follow her blog before joining but that's no problem since she comes up with adorable ideas!