I have spent an evening or so cruising Pinterest

(click the button in the left column to follow me and see more of my ideas.. I've just recently gotten hooked!)
for color themes, decor ideas and other goodies to help me with my next major project: Jaiden's room makeover!
Our 3 1/2 year old daughter currently has the middle-sized room of our home. What makes it small is an awkward entry way that cuts to the left.. really proves difficult for furniture arrangement. The smaller room is my sewing and vanity space, and my husband & I have the biggest room.
....We definitely have a "starter home" with approximately 1100sq ft, 3 bedrooms, 1 bath with no basement or garage.
But I'm truly thankful for it nonetheless!!
Here's an old photo from when we first moved in... I promise I have added a flower garden since then.
-You can probably imagine what my dreams are for a future house!-
We did Phase I of our laminate flooring install last summer that currently only stretches the living room and hall way. Definitely check the link out if you're interested in installing laminate. I tried to incorporate some great tips on doing it yourself ;) Here is a bad quality (great pose, however!)

picture of my little sweet pea... gives an idea of the living room on down the hallway.

Lots of painting left to do if you can't tell.
Our intention is to get the flooring finished and installed in all 3 bedrooms.... You may wonder why we'd have pretty much an entire home of laminate flooring? I have my reasons: A toddler, a full breed yellow Labrador, a kitty, and a really awful terrible blue carpet in the bedrooms. If future homeowners don't like the laminate, they can pick it up and put down carpet... I might just have to leave behind photos of what it looked like before to stop any complaints lol.
The exciting part of finishing the flooring is that it lays the ground work for her bedroom makeover! Jaiden will be moved to our bigger bedroom and we will move to her room.
We don't need the space. We already know her room will fit a queen size bed and dresser... been there done that and went back to the crib/daybed conversion. A toddler needs her space to play! Hubster and I are only in our bedroom at night. Otherwise it is a DZ (drop zone) for clean clothes laundry baskets. Needless to say it hurts my feelings none to give the big room to her!
Now...
My ideas:
Pink?

Green?

Black?

White?

<--- Some sort of combination of those colors plus or minus one or two of them!
Not sure on which shades of pink and/or green I'm going for yet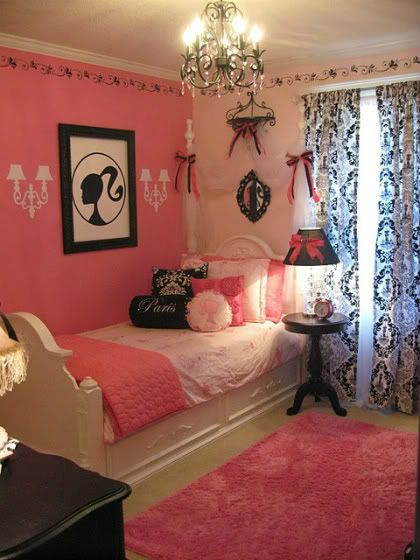 Painting her bed possibly white
...but maybe pink, green or black...
from the natural oak color.
Can you tell yet that I'm kinda in the early stages of all this? lol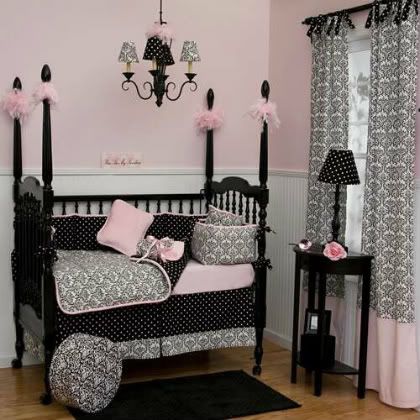 Giving her bed a tufted headboard and of course new bedding

(that I plan to make or buy super duper cheap)

.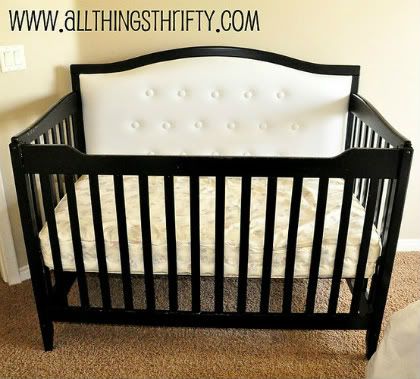 A dress up area - What little girl wouldn't want a dedicated dress-up space?!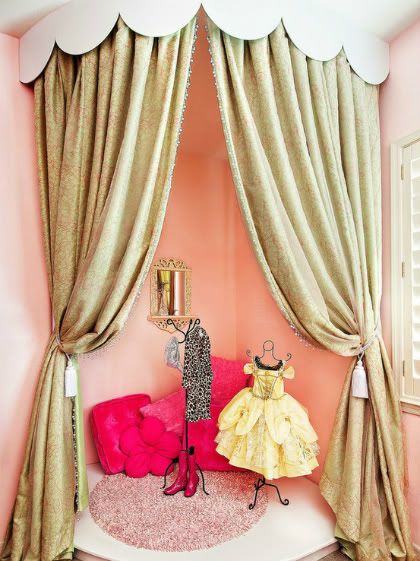 And my biggest idea - A stage!!
(Also seen in the above dress-up area pic)
Jaiden is such a performer, always singing and dancing around. I joke that the world is her stage, but I think it would be incredibly awesome to give her a real stage in her room! Maybe it will cut down on stage shows in front of the TV hehe. I thought of this idea one night and was so excited about it I had to see if anybody else had already done it. Luckily I found a couple of blogs where people had!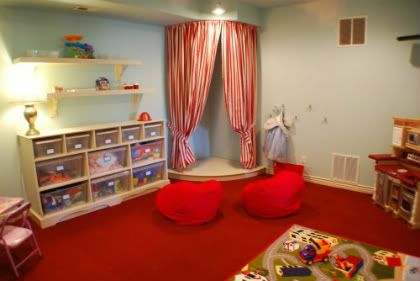 A few ideas I'm tossing around to get me going on this project once the finances are available and the rooms are ready to be switched over. I'm trying to stick with a pretty tight budget. I love to do makeovers frugally. Many things I have planned out that I can already get for free or really cheap, plus several items I have on hand already. My biggest OOP expenses I anticipate to be fabric and paint. The room isn't huge by any means. I do have a lot of space issues to work out ahead of time and organizational dilemmas.
It won't happen over night but my goal is to have it done by the end of June for her birthday in early July! I'll save the "before" photos until the finished product post.
Definitely click on my Pinterest button so you can get links to the photos I have provided and check out some of the other things I have pinned to help me with the makeover :)
Linked up at: