Say what you will when you see this but I'm joining the
I saw Rachael's post (over at Lovely Crafty Home) this afternoon and the second I read through it I felt her pain and can sympathize 100%. So I got up off the couch, took my phone to my sewing/vanity room, snapped a picture, and am now putting myself in the FIGHT to get this room organized! The first step is admitting you have a problem... right?!
Ohhhhhh *nervous*
....
......
.......
........
.........
..........
Ok, I'll do it... here you go >_<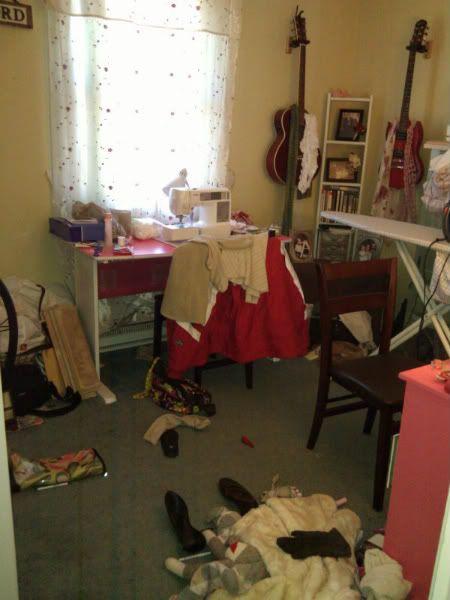 Yeah, it's for real. This is where I sew, where I get dressed (the closet is worse with my clothes and other fun.. things..), where I do my make-up, ironing, coats when the living room hooks are overloaded, where we hang Bryan's guitars (and my scarves haha), where we put extras and things we don't have a home for. Oh it's so sad! I used to keep it so clean but I swear, one little project will cause the room to go in to disarray and I get so excited about the project that I forget about the room! It's a down hill spiral!
So here it is, I have until the end of January. *I plan* to make this room cost me zero dollars in the organizational process. Maybe in the future I'll sink a little money in to it but not this month. We HAVE to get the laminate down in this room before I can get started. Already have that stuff on hand. Not worth reorganizing on the ugly carpet if I'm just gonna have to pull everything out and start over.
My biggest issue is getting hubby on board to tackle the flooring in here by the end of the month. If we can even get it done by the 29th I can totally make this room beautiful again in a couple days... just in time to report the results over at the Party. Maybe I'll win the $15 Starbucks card Rachael is giving way!
I think I'll have to be in a constant state of prayer in order to salvage my little junk hole here... But it CAN be done!!! I have FAITH!!!
See you at the end of the month....
~Lisa~