The other night I was at a loss over what to cook for dinner. The fridge is kind of bare right now, haven't gone grocery shopping and we used up a lot of our cheese (bummer, we love cheese). So off the top of my head I made a super easy baked chicken meal!
This is no gourmet meal or fancy feast but it was delicious for a last minute dinner.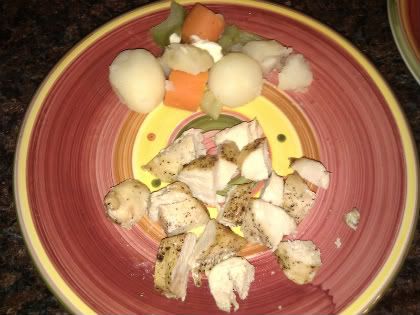 ~ 1lb Boneless skinless chicken breast halves
~ 1 pkg of frozen stew veggies (Kroger brand, I don't have the packaging anymore but for the stove-top it called for 2 cups of water. I think it only comes in one size bag anyway but just in case...)
~ 1 can chicken broth + 1 can water
~ (I also used Tastefully Simple brand Seasoned Salt but that's optional of course... you can use any seasonings you prefer on your chicken!)
Preheat oven to 360 degrees. Season chicken with pepper and whatever other seasonings you'd like. I didn't really measure out the olive oil but I'm thinking about 2tbsp for 2 pieces of chicken is what I did. Rub the chicken on both sides with the oil.

HINT: A good way to do it is just dump a little oil in your hand and start rubbing. If you need more, use more.

Place chicken in your oven dish.
Now let's do the veggies: Pour 1 14oz can of chicken broth + a can of water in to a stock pot. Bring to a boil, follow package directions of veggies (cooks for approx 25 minutes)
Back to the chicken: I opted to cover my with foil because I wanted to make sure it stayed juicy and didn't dry out. Cook for about 15 minutes, remove foil, place back in oven and continue to cook another 10-15 minutes or until done.
Add any other seasonings you'd like or even a little butter.
**This was a big hit for us which amazed me given it's spontaneity and easiness! The broth adds flavor to the veggies but by halfing with the water it is not too overwhelming. Covering the chicken with foil early on allowed the chicken to "roast" and then uncovering it for the last bit made the outside crisp up just a tiny bit.**