This project is split in two posts so be sure to follow up with Small Home Solutions II: Stool redo. I felt the stool deserved its own post!
I am so excited to share this project. In my living room is a small space between our giant German shrunk and the wall along the hallway entrance. Typically it housed a plant, a vacuum cleaner.. other random things that fit there. Now it houses what you see above!
I wanted a more organized coat area that was not behind the living room door cluttering that wall and the full swing potential of the door. Plus where you find coats, shoes tend to gravitate
further
inhibiting door opening. So with the coat area I decided to go with a personalized touch.
There is way more on that rack than you can see. Oh, and the wall isn't white anymore! That post to come eventually....
First, I took these old frames I inherited from my mom eons ago.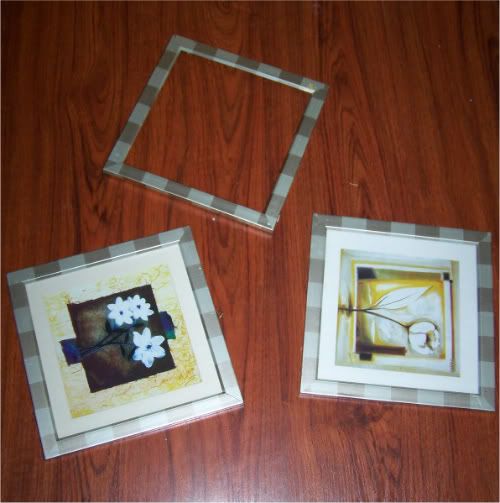 They got spray painted white. Eventually I decided to cover two of the frames with fabric.
To do the personalization I used Word 2011 and picked font "Parchment" then with the Word Art option I used whatever style it is that outlines the font. That made it to where I could use black marker to color in only what I wanted, in this case, just the letter. It's amazing what Word Art and enlarging a font can do... really gives you many different looks!
Lastly I took hooks from an IKEA wall-mounted coat rack (also given to me years ago), spray painted them white and, with long screws, hung them on the wall.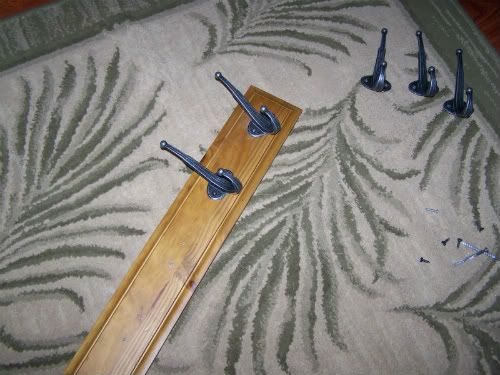 If ever there was motivation not to overload a hook with coats, them not being in studs ought to be it! I placed 2 up high for my husband and I, and one down low for our daughter to reach.
Technically the frame and hook project cost maybe a few cents. I bought a yard of the yellow heavy cotton fabric for $5 but obviously used very very little of it for the frames, and all of the other things I already had!