For our small 3 bedroom house, space is critical as we are beginning to figure out, even for things like a coat area! And with a small living room, seating is in short supply as well. So why not create a new space to hang our coats, personalize it, and fit in a cute stool? Challenge accepted and completed :P
A little background on the stool idea. I had pretty much decided what my plans were, I just had to find the right stool, pick the accent color I wanted for my living room (of which 4 walls are green as you can see), and then do the work.
Let's take a short break for a Pinterest funny find:
Had your laugh?! I did too hehehe.
Ok, seriously now! I found some cute ideas especially in the yellow region. Yellow and white seem to work well together. And when I thought about it, yellow would make a fantastic accent color in my living room even when I go to recover my couch cushions some time in the future.
After a long days search I found the right stool for the project. To me and every other DIYer out there, it was just beautiful. To others, probably hopeless. I snagged it up for $9 which is a tad more than I planned on spending but it was seriously the only stool I could find that fit my plans.
There is some sort of panel nailed in to the top to cover a hole that was once that webbed wicker stuff. I assume somebody fell through it and they "patched" it up lol.
I had to get really creative here... what to cover the top with in order to give it cushion WITHOUT buying anything? Oh yeah, how about that old pillow I found under my bed!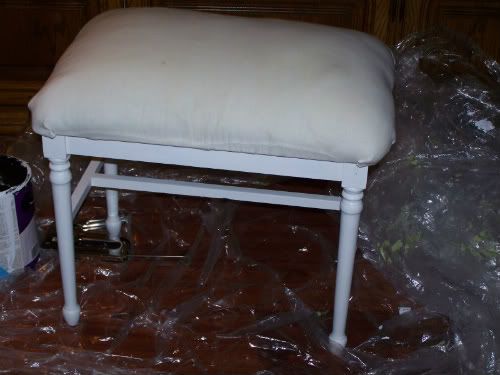 Let's say it together, P E R F E C T!! I didn't even have to cut it down or anything!
Before putting the pillow on it needed a few coats of white paint, a little roughing up and a coat of Polycrylic to match my TV stand and Coffee table redo.
To get that perfect pillow on to my beautiful stool all it took was a hot glue gun and some toasty fingers.
And then of course I had to add the pretty yellow checkerboard fabric. Again just some hot glue and toasty fingers... I did not fold the raw edges under or anything, I let them hang over while I glued because hot glue does not really work through two layers. I wanted to make sure it had a good "stick." Once it was all glued on I took an exacto knife and cut all the excess fabric off.
Finally, thanks to a fun basket at Hancock Fabrics full of adorable flowers I snagged up a couple of these golden yellow flower pins and attached one to the corner.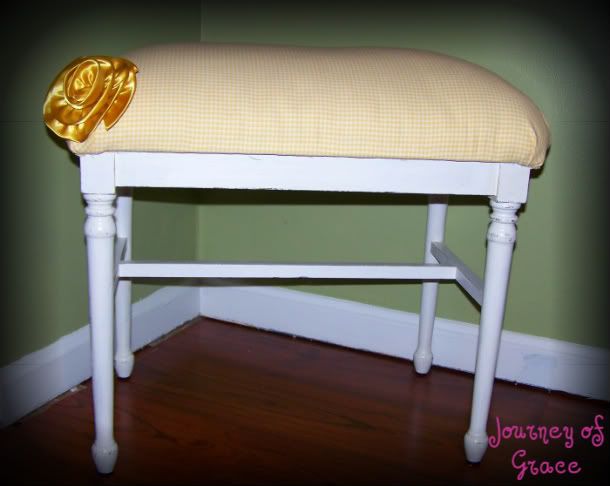 This beautiful new "Small Home Solution" cost me approximately $15 for the stool, fabric, and flower!