I suppose a blog is a place for you to "brag" about different things... Mine must be bragging about my mediocre DIY skills, but I have to say that I'm incredibly thrilled with this project. I seriously was concerned I could not pull it off. And if I DID manage to get it done, I was sure it would look horrible. But honestly, I'm super proud of myself for this one! Once I got it hung up my face lit up like the 4th of July... I DID IT!! (and I didn't screw it up too badly, either!)
*** I totally forgot how many views A Little Girl's Dream Room - Tribute to Jaiden got!! That post was all about the plans I had for her room this year but little did I know, my body was in the process of forming little Maddox at the time I posted it! Obviously as you see here plans have changed but do still be inspired by what I am unable to do for Jaiden :) ***
My daughter's bed is actually a bunk bed, however we assembled it without the bottom outside rail in order to make it a loft bed. It was the perfect height bed for her, the ladder is easy for her to climb, and it serves a great dual purpose as an extra bed for Maddox when he is able! It actually separates so you can make it two twins instead of a bunk. And the price was fantastic.
Ok, about the canopy. We have space issues in our house and Jaiden and Maddox are sharing a room (a post on his side later). The loft bed was a great option to help organize Jaiden's goodies that way the room doesn't look so cluttered, but I couldn't stand for it to be visible. I tossed around ideas and after some typical Pinterest hunting I found this: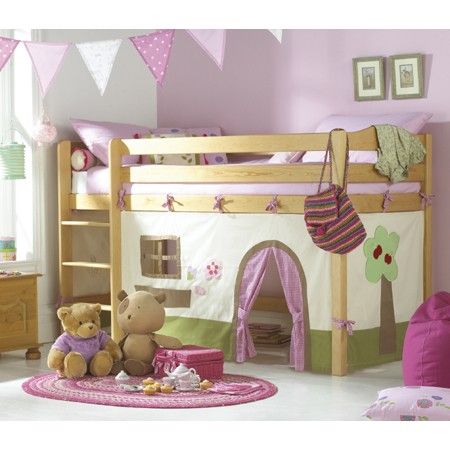 I fell in love! I think the site actually sells just the canopy itself, not including the bed like I have linked, but it runs $99 (in weird British money). I'm not even sure the height of the bed/canopy matches the height of mine anyway so buying it was never an option. Making it sounded way more fun!
Sewn window box with hot glued on flowers.
I kinda failed to take in to account the railing on the end of the bed so you see it here through the window.
Sneak Peak of the inside:
I put Jaiden's dress-up accessories in the top drawer. Her tutus/play skirts are in the bottom drawer.
I found that cute purse lamp at Walmart and couldn't resist it.. makes the little house glow so nicely. It makes a great nightlight as well.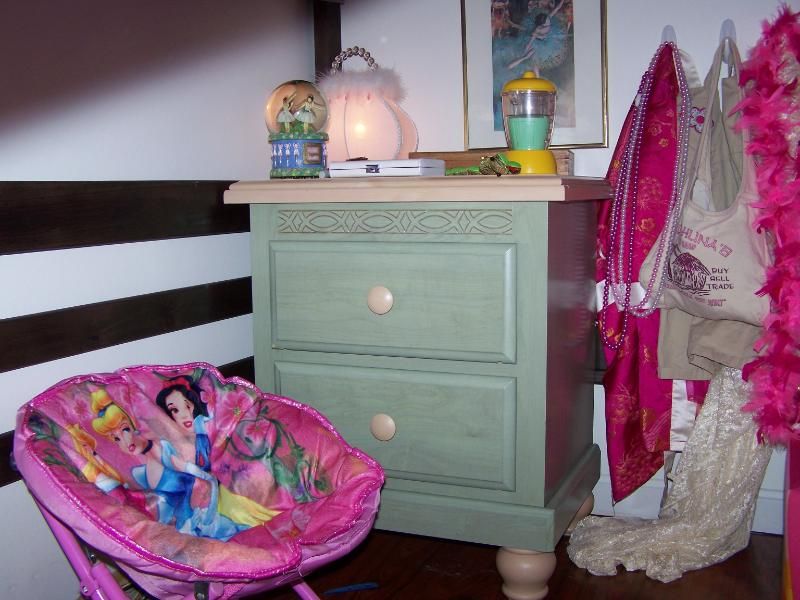 Command hooks are amazing, you know, the little ones with the sticky back?! That's what I am using to hold up her dresses and boas.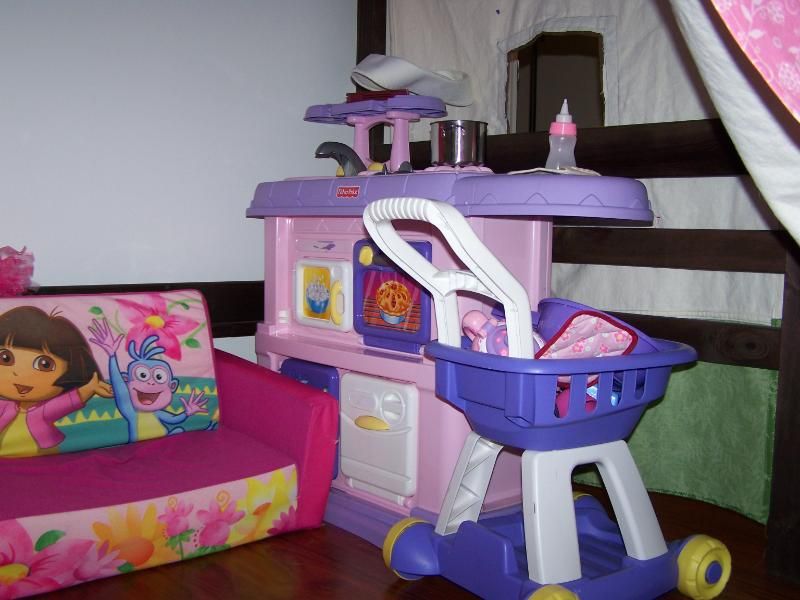 I still have a few plans for the bed. I'd like to get Jaiden's name in the wooden letters, paint them, then attach them to the railing of her bed above the house. There are a few other little things I had in mind but I'm ecstatic about what I have accomplished thus far!
It took me approximately 4 days to complete but we have been very busy doing other housework as well, so I'd say 5hrs total of work. I bought $40 worth of material but didn't use all of it, in fact I probably used a little less that 2/3 of it. With using the flowers I had leftover from a wreath project I would estimate this project cost me about $30!
~Lisa~