One of the blogs I have followed for a good while is
Elle Apparel
. She has so many adorable tutorials for sewing that are mostly really easy if you have the basic sewing stuff down. Last year I ran across her
maxi skirt tutorial
and swore I'd make one some day. The day finally came!
She made hers because she was pregnant but even if you aren't pregnant you can make one just the same. They are so incredibly comfortable! I decided to make one for myself the other night as a sort of stress reliever. I wore it two days in a row and if I hadn't gotten a little spaghetti sauce on it, I'd probably wear it for a week straight.
My daughter begged me to make her one because she thought mine was just too cute. Mine took approximately 30min and hers took about half that. If you follow the tutorial instructions it's definitely not difficult. I got intimidated by the elastic thread part but with a little practice on scrap fabric it was easy.
I wasn't looking for the beautiful "finished" look so where she used a double needle to hem the bottom I just used one straight stitch. I might eventually go back and run another row of stitching just to make it lays more flat and not risk rolling up but I'm not concerned about it. I'm in it for the comfort!!
My daughter and I:
Hubby asked me for a belly shot so I reluctantly did one (20weeks and 2 days here). I'm not big on bare belly but I don't suppose it hurts anything. Plus it gives you a little bit of an idea on how I attached the waistband. My raw edges are on the inside of the skirt (just like Leanne did in her tutorial) so I can unfold the waistband as I get bigger, like you can see it did when I lifted my shirt. My daughter's is on the outside of the skirt since her waistband will mostly stay folded down (that's her in the background tearing my tree apart):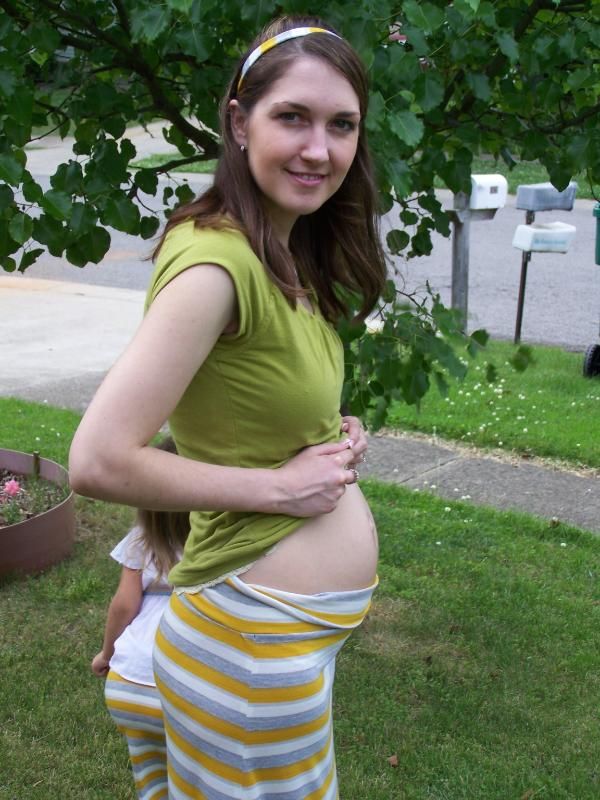 Headband:
Another cute idea... knit material is so forgiving you can do so much with it. I cut a strip of my material about 1 1/2 inches wide or so and long enough to wrap around my head and allow me to tie it so I could have a matching headband. No need to sew it because if you work it just a bit the raw edges will roll under and it'll look finished!
~Lisa~