I can hardly believe we have approximately 100 more days to go until our son is here! With his impending arrival I'm doing little projects here and there to prepare. So far I have done a lot of room organizing, furniture painting, and even started making my own
cloth diaper inserts
. I waited until I finished what I *think* is all of the furniture painting for the room before I posted about it. Now that it is done, see our 4 year old crib and changing table get a Maddox-approved makeover!
Before:
The crib before Jaiden was born back at our cramped little apartment.
(We had cats, hence the crib tent, but ultimately it got taken off because the cats never bothered her)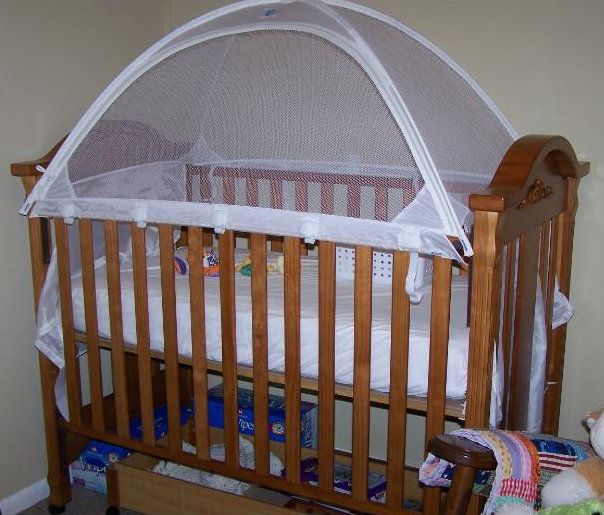 Changing table heavily stocked before her arrival.
And for Maddox
After:
Painting the Crib:
Obviously the furniture matched to begin with, but it didn't look right on the hard floors and really, those plain wood colors are kind of 90's! I started with the crib a couple months ago. I'm not going to lie... I'm lazy and really did NOT want to sand that thing. I found a blog a long time ago about someone who spray painted their crib without sanding by using several coats of primer spray, then used the color spray paint they wanted the finish to be.
I used Krylon brand spray from Walmart. At the time it was the best priced spray I could find after checking local hardware stores. I was going for either Krylon or Rustoleum.
I primed maybe what I thought were 3 coats. Apparently my coats were not really "coats" and more of touch-ups of the first coat. When I applied a gazillion coats of the gloss white spray I was having issues. (It really does take a gazillion coats... the downside to spray paint!) I had a couple bubble and crackle spots, and after a couple of days it was chipping easily. Luckily the bubbly spots were on a rail so all I had to do was turn that rail to face the wall. To prevent chipping I slathered the entire crib in 3 coats of Polycrylic. Now it doesn't chip and looks beautiful!
Painting the Changing Table:
After the crib I vowed spray paint was a thing of the past. I convinced myself it would be easier to hand paint. Ha. I gave up that idea when I decided I was going to go ahead and use the changing table. I did not plan to use it and was trying to come up with other creative changing table ideas but without spending money I don't want to spend that was not going to happen. I dug the old table from the outside closet, laid all the pieces out and went to town. I tried to be more liberal with the primer this time. Since I had 3 cans left I went ahead and used every can before I moved on to using the gloss spray. The finished product was more durable than the crib (pre-Polycrylic) and since baby will not actually be sleeping in this I opted to not Polycrylic it.
Total cost of BOTH projects was simply the cost of the spray paint. I bought about $45 worth in the beginning including primer spray. It happened to work out the way I did the crib that I had just enough spray to do a good finish on the changing table. I already had a quart of Polycrylic so I won't include that cost. A quart will go a LONG way! I still have way more than half a can left and the crib has made the 4th or 5th big project I used it on.
~Lisa~