(Please excuse my cell phone photos, they aren't that great. This was a last minute idea and I didn't have my camera handy)
I think it took about 20 minutes or so to make. Nothing incredibly fancy, but nobody will see my handy work outside of this post... and it fits with room to grow, woo! The point was to do it cheap and make it work.
I paid $3 for this Tommy Hilfiger skirt at Goodwill last year.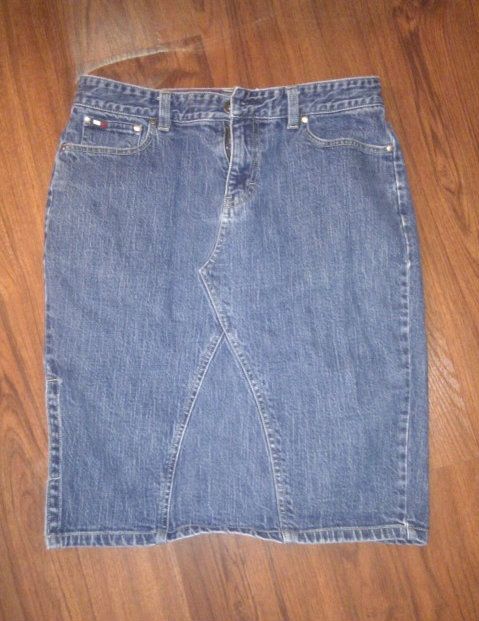 I took the skirt and folded it with the crease in the front and back so that I could get an even cut around the front to put the 'band' which I made using old t-shirts, courtesy my sweet husband!
I went ahead and cut out the pockets on the inside since they'd be about useless now. I sewed across the original stitching on the pocket to close them up.

I failed miserably at getting pictures of making the belly band so I'll try and explain it:

I cut a long and wide swatch of t-shirt then folded it in half, laid it over the skirt how I'd want it positioned for the final product (the fold runs along the top in the final product btw) and using a pen I had handy, drew a sloppy line around the contour of the cut I made.

I had to feel my way through the t-shirt material as to wear to draw the line. While still folded I cut the material about 1/2in outside the line I drew. Then I folded the material the opposite way, right sides facing and sewed around the raw edges leaving about 1 1/2inches open at the end so I could flip the material right side out through the hole. That was my quick way of getting clean edges for the band on top of the skirt.

I laid the band on top of the skirt and pinned it on. From there I straight stitched the band on to the skirt!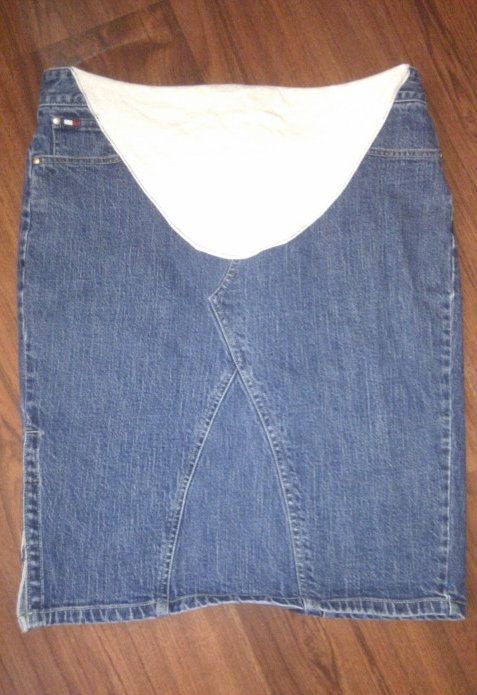 It's quite comfortable! A little bit loose right now but it stays up and as I said earlier, there is room to grow. You can definitely do this with pants also, the suggestion I have would be to try them on and maybe make a little mark with either a pen/marker or even using a straight pin down below your belly where you'd like the lowest point of the band to be.
$3 skirt to maternity skirts cost me, well $3 :)