A few weeks ago I did a post about several craft/sewing projects I need to get done before our little guy arrives. The first one was an outfit needed for a onesie exchange in a September due date mommy group. I have been procrastinating BIG time with this, and I need to have it mailed off by August 6th! I finally decided on what I would do and purchased a cute little onesie from Old Navy to get the project started.
I'm proud to say I'm finally done with it! I can cross it off my list!!
To follow the little bit of info I received about Mom, I needed something for a girl, with green, purples and/or browns, maybe owls or butterflies, along with a little sparkle. With the help of a lot of tulle leftover from projects I decided to not use tulle on, I got to work on making a tutu to go with the onesie!
If you would like to make your own tulle tutu for a little girl here is what you'll need:
Elastic (I think I used 1/2 or 3/4inch since it's for a baby)
Tulle in the colors of your choice
Needle/thread or sewing machine
I had a couple yards each of green and purple tulle and might have used about 1/2 yard of each for this project. That will of course depend on the length you want and size of the person you're making it for.
I cut several pieces of each color approximately 7x13 inches. Some pieces were bigger, some were smaller. You can adjust all of it in the end.
My onesie is a 3-6 months size. I only had a small bit of elastic left, but it was enough to go around the onesie plus extra. I used a safety pin to hold the elastic together where I wanted it. That's another thing you can adjust as needed.
Starting on one side of the safety pin I began tying on the tulle alternating colors as I went around.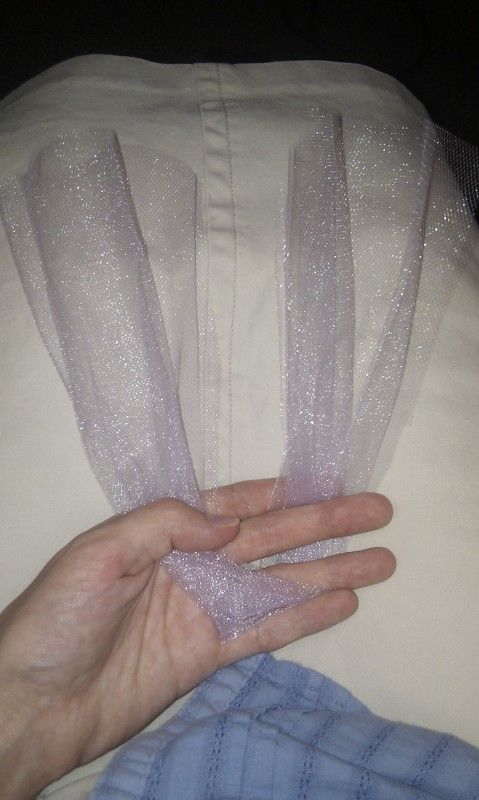 Place the folded part behind your elastic...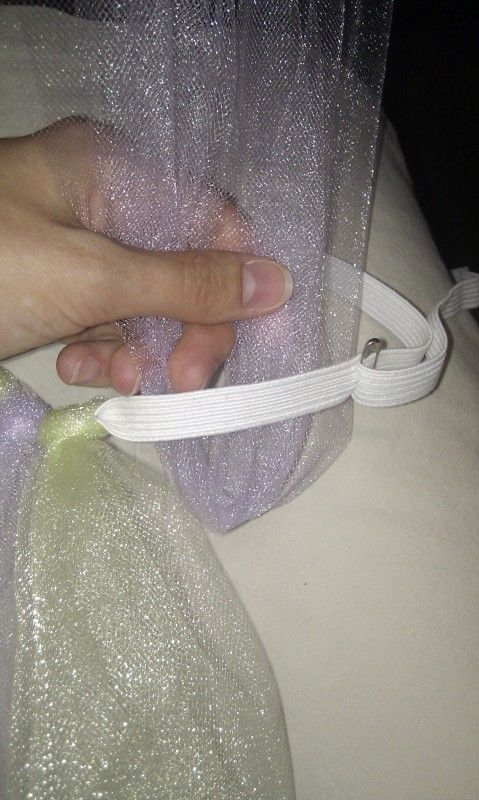 Then take the two ends, bring them down in front of the elastic and through the loop. Pull tightly and adjust as needed.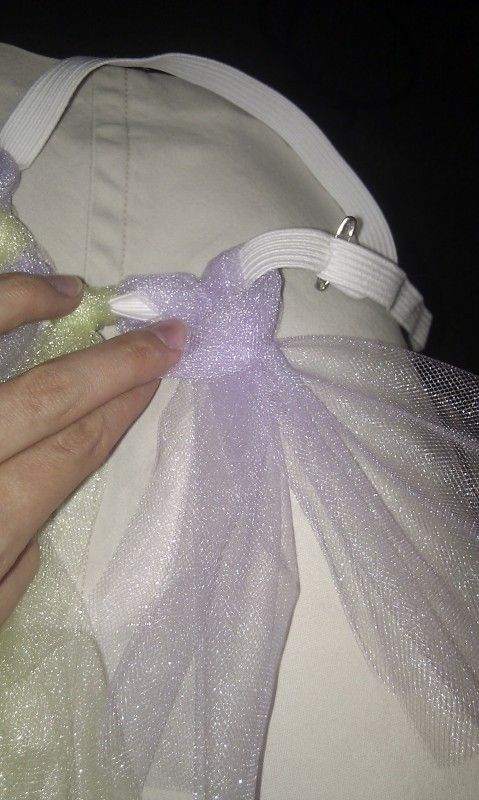 I used 16 pieces of each color. Really you won't know how many you'll use until you are finished. I had to cut extras as I went. It takes a little working with because the elastic likes to get twisted easily. I have seen where people stretch the elastic around a chair back to hold it in place and make it a little easier to work with. I don't have any 3-6mos size chairs handy so I worked it out as I went.
Once all of the tulle was on the elastic I had some adjustments to make... some of my tulle pieces were longer than others (it can be a pain to cut and get perfect) so I had to go around the bottom and trim it up a bit to make it somewhat even in length.It's going to poof out so there's no need for it to be perfect.
Use your needle and thread or sewing machine to do several stitches up and down the elastic where the two ends meet so it's secure!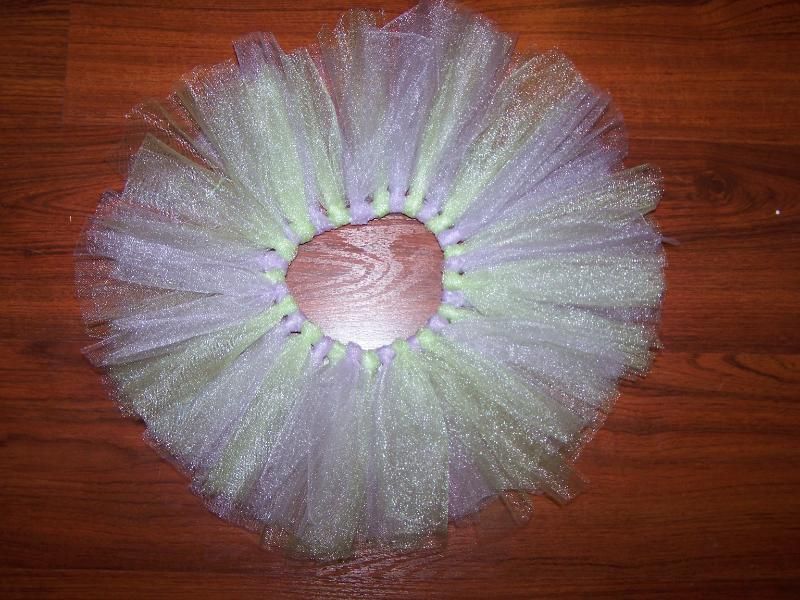 (You may have to loosen one of the tulle pieces next to where you sew that way you can move it over and cover up the elastic. Now that it is completely finished you can adjust the tulle around the elastic so it looks evenly spread out.)
I purchased a couple of little wooden craft accessories as extras to mail out with the onesie and tutu! Maybe she can use them for decor :)
And there you have it, an adorable tulle skirt that should cost you no more than $5-$10+ depending on the amount of tulle you need and what you already have on hand! I purchased my tulle for about $1/yd and the elastic was a hand-me-down from a basket of sewing goodies I was given, so for me it was maybe a $1 project.