For my daughter's 4th birthday I decided to go a little outside the "normal" box of party stuff and rather than buy plastic bags and stuff them with goodies I opted to make my own bags. I went with the idea of giving each kid a reusable "snack bag" that is personalized with their initials!
Here is the original tutorial I found on Pinterest:
The girls got either pink or purple, and the boys got either green or brown. The embroidery, if you choose to do something similar, needs to be done once you attach your outside and inside fabric squares (pretty much after the first step that involves sewing).
I am not a master embroiderer... it's still fairly new to me even though I've had my machine a couple years (
Brother SE400
). I just don't embroider often. If you follow your machine instructions it recommends you to use embroidery thread but that stuff can be very pricy. I use regular machine-grade thread for mine.
Once you get your pieces embroidered you can move on and follow the steps in the tutorial accordingly to get your finished product.
Goodie bags labeled and ready to hand out at the party!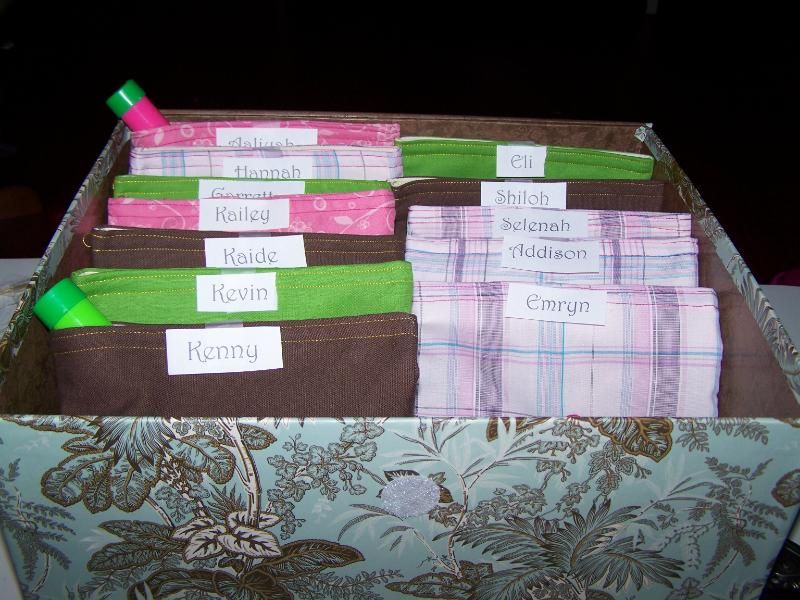 They were are a HUGE hit! The kids loved them according to feedback from parents! I will definitely consider doing something similar again next year.
Oh, and for the cost?? About $3!
All I had to purchase was some off-brand sew on Velcro from Walmart. Everything else was fabric I had on hand which coincidentally was all given to me by either my grandmother or my sister.